Skin trading is a big part of CS:GO and over the years it has even turned into a profitable aspect of the game, well-integrated by Valve via the Community Market. However, the business of buying, selling, and trading CS:GO skins and cosmetic items has become so massive that most of the major transactions now take place outside the official realm. Not all virtual items have the same value, there are some really rare and unique ones that are worth more than $100,000 USD. Recently, an extremely rare version of the Karambit Case Hardened Knife was discovered which is estimated to be about $800,000 in value, according to popular CS:GO skin trader and YouTuber ohnePixel. This allegedly makes it the current most valuable Counter-Strike cosmetic in the world.
Also Read: The Complete CS:GO Fire and Ice Guide - Ultra Rare Knife Skin Patterns
Extremely rare CS:GO knife estimated to be worth $800,000
An extremely rare knife skin has been discovered by popular CS:GO skin trader ohnePixel, who estimates it to sell for around $800,000 if the owner ever decides to do so.
He came across the knife while going through the CS:GO Exchange Item Database, the information about its owner is limited though due to private Steam Account settings.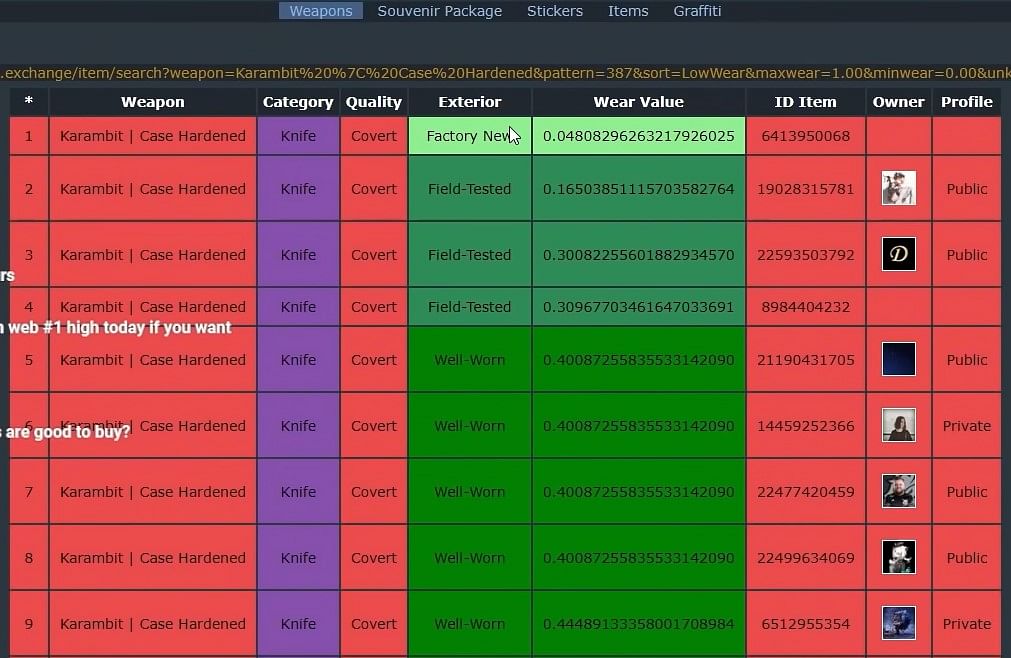 However, details about the knife was available which is a Karambit Case Hardened skin in a Factory New (FN) condition. It has a Wear Rating of just 0.0480 with a Pattern Template 387, making it one of the rarest knife skins in CS:GO.
The current owner of the knife had apparently purchased it five years ago in 2016 for about $100,000, but since then the knife's value has grown exponentially by more than eight times. It is now estimated to sell for about $800,000, apparently making it the most valuable item in Counter-Strike history.
A number of CS:GO skins in the past have been traded for high values, such as in July 2020, when an M4A4 Howl, which had rare iBUYPOWER stickers from Katowice 2014 reportedly sold for a world-record $100,000, which is now up on the market once again for $130,000.
The $800,000 estimate claim might seem a bit too bold and unrealistic, but considering the rarity of this particular CS:GO knife skin which is literally completely blue on one side, playing down its value is also a bit absurd.
To know more about such CS:GO knife skins and understand why they are so valuable 'Click Here'.
Also Read: Fraud Faces up to 8 Years in Jail for Stealing $1400 CS:GO Knife Skin