One of the most iconic Dota 2 personalities, Danil "Dendi" Ishutin's esports organization, B8 Esports has dropped massive hints about stepping into competitive CS:GO. The Ukrainian organization was formed last year in January 2020 and primarily competes in Dota 2, but it seems that B8 might now be looking to expand into a new esports title. A week back, B8 had tweeted something related to other esports disciplines popping off while asking the question "Maybe we should take a look there?" Multiple organizations from the region had come forward to speculate that maybe B8 was talking about CS:GO, considering the fact that teams from the CIS region were doing so well at an international stage.
Also Read: Na'Vi Drops Limited Edition T-Shirt Celebrating S1mple's Ace Record at Cologne
B8 Esports might step into competitive CS:GO
Dendi's Ukrainian esports organization, B8 has dropped massive hints about stepping into competitive Counter-Strike with the region doing so well in CS:GO. Three of the top five teams in the world right now are from the CIS region - Na'Vi, Gambit, and Virtus.pro.
B8, after having suggested that they were thinking of expanding to other disciplines, went on to ask the following question, "If we signed a non-Dota 2 team, would our favorite map be overpass or train?"
Users and other organizations flocked in to answer the question. Gambit Esports responded by naming a few Valorant maps, but it was not enough to deter B8, who went on to jokingly name Office as their potential best map.
B8 actively engaged with other users who also gave their inputs related to the question, further bolstering the speculation that they might actually be serious about entering CS:GO. Now is quite the perfect time to enter the esports title, with the region getting so much spotlight and many players popping off as potential future prospects.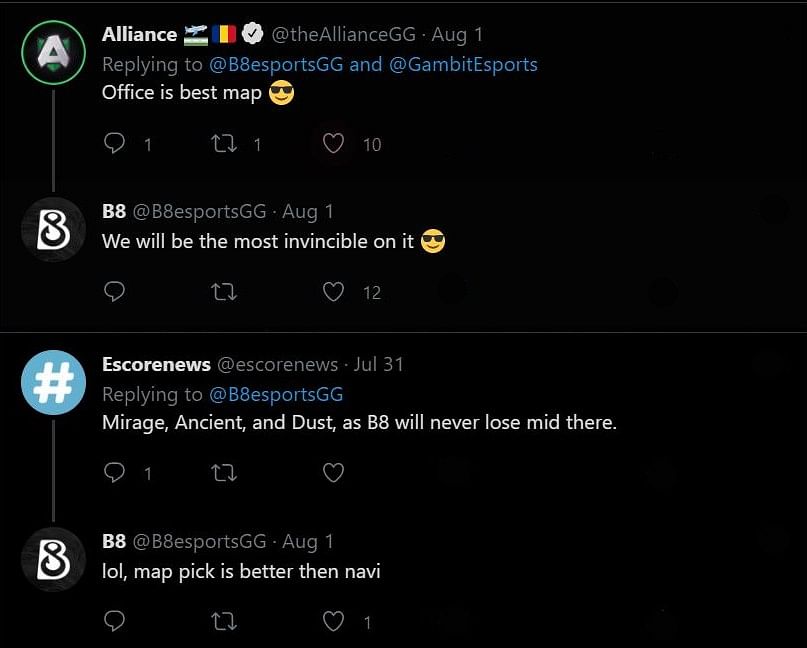 So far, the organization has strictly limited itself to Dota 2, since being established in January last year. However, it has not been a smooth journey for them, with a lot of roster shuffles due to a poor string of performances that has further led to inconsistency for the organization as a whole.
It will be interesting to see which players B8 Esports go on to sign or which lineup they acquire. Do they directly pick players with an objective to quickly compete at the highest level, or bide their time by building a name for themselves by playing local and regional tournaments.
Also Read: CS:GO User Shows Bizarre Ways to Hit No Scopes With AWP, Goes Viral on TikTok